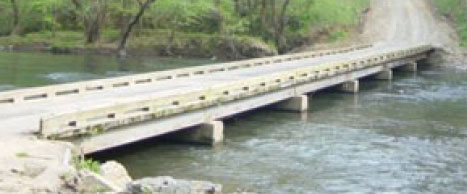 Trips in Heritage Estates area
Pick a trip appropriate for the day's river level! The river level matters for safety around the low-water bridges!
MINIMUM TRIPS : The shortest tube float trips is from the Rt. 163 bridge to the Gazebo. In kayaks this is less than half an hour – in tubes about an hour. The next shortest trip is from the Rustic bridge to the Gazebo (be aware this goes under the lowest bridge in the area).
VEHICLES: Equipment has to be hauled on one or both ends of the trip. So it generally takes 2 vehicles to stage a river trip unless someone stays out of the trip. It also helps if you put in or take out at the gazebo. This is because the kayaks/canoes can be safely left at the gazebo before or after the trip while the vehicle for hauling them is picked up from upstream or dropped off downstream. If you are not anchoring the trip at Heritage Estates, you need not only two vehicles but 1) a safe place to leave the equipment, or 2) a third person to stay with the equipment while vehicles are shuffled, or 3) two vehicles that each haul the boats. There is one workable trip if you only have one vehicle. Call Duane for discussion.
SPEED: Figure a leisurely 2 or 2.5 miles per hour for kayaks. In general the tubes will proceed at maybe 1 mile an hour). Each kayak is rated above 300 pounds weight rating.
SAFETY AND LOW WATER BRIDGES: The most important thing is to understand the interplay between the low water bridges and the changing water levels. Stay away from low water bridges when the river is over 2.3 feet!!! Always check your current water levels when planning a trip or else go look at the lowest low water bridge (the Daniel Daughters bridge).
Canoes are generally more trouble than they are worth here – the river is too rocky, plus they have trouble getting under nearly any low water bridge and have to be pulled around/over nearly all of them.
Kayaks, at regular water levels (below 2.3 feet on the local gauge!), can float under the low water bridges. A person scrunched down in a kayak needs about 20 – 24 inches of clearance to float under a low water bridge. Scout your trip!
Getting off of tubes and floating under bridges is probably sufficient, but its easy to climb over, too.
ALWAYS ERR ON THE SIDE OF CAUTION! High river levels are a dangerous mix with low water bridges! STAY TOTALLY AWAY FROM LOW WATER BRIDGES WHEN THE RIVER LEVEL IS OVER 2.5 feet!!! Use stretches of the river without low water bridges, such as Heritage Estates to the beach at Methodist Church Camp bridge (aka Elk Shoals), from West Reno bridge to Index/Rt 88 bridge, or Rt. 88 bridge to the State Park.
If the river is OVER 3.5 FEET STAY OUT OF IT completely, because it has vertical side banks and all places to recover from a spill are covered up by rushing water when it is too high.
Repeat: Always check current river levels when planning a trip!
Scroll to Ashe County (0316100 – S. Fork near Jefferson is the only station)
Note the current real time "Gage height – feet"
Click on 0316100 if recent flow levels are desired. Look at the second graph (Gage height – feet"